Step 1:
Open Final Cut Pro and open your project file. Select the desired sequence for encoding from the browser window.


Step 2:
From the File menu, select Export then choose the Using QuickTime Conversion... command. A Save exported file as... dialog box will appear.


Step 3:
Select Movie to DivX AVI from the Export drop-down menu. Navigate to your desired output DivX® movie location. Press the Options... button to launch configure the DivX® encoder.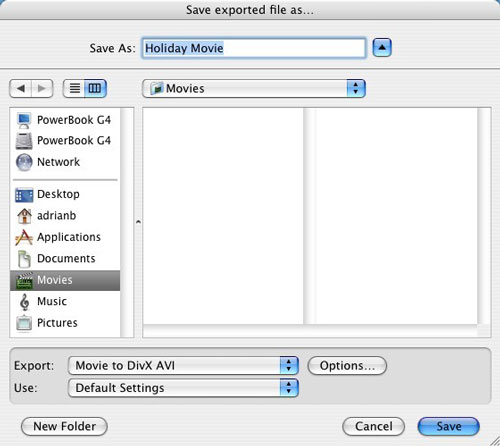 Step 4:
If you have a desired file size for your DivX® movie (e.g. 650MB for a CD-R), select the Make a file(s) of MB in size radio button. Enter the desired number of files you want in the first box (e.g. If you want to save the DivX® movie on two CDs, enter 2). Enter the desired file size into the second box.

OR

If file size isn't important, leave Make a quality file checked. From the drop-down menu, select the desired quality for your DivX® movie. The default is a High quality file. Click the OK button to return to the Save exported file as... dialog box from Step 2.


Step 5:
Select the Save button to start the encoding process. During encoding, you can start the popcorn and prepare yourself for a DVD-quality DivX® movie experience. Play the file on your computer using any media player, but if you already own a DivX® Certified DVD player, you can enjoy a big screen, surround sound, movie theatre-like experience from the comfort of your favorite living room chair.