Yes! While the iPad is not a DivX Certified® device (boo!), you absolutely can play your collection of DivX videos on your iPod, iPhone or iPad. Just follow these easy steps to watch DivX® movies on any iOS device. And make sure your DivX Software (
Windows
or
Mac
) is updated so you can create your own DivX videos using the DivX Converter.
1. Get a media player app for your iPad.
We really like the free media player
oPlayer Lite
*. If you don't already have a player that supports DivX files (like the formerly iTunes-available VLC), install
this app
* today.
2. Transfer movies to your iPad. You can pull videos directly from the cloud storage service of your choice or use iTunes' File Sharing function.

a. DropBox* or SugarSync* (or other cloud storage):
Add the videos you want to watch on your iPad to your preferred cloud storage account and ensure the corresponding mobile app is installed on your device. In the Dropbox app, select the video you want to play and let it download to your device. Then, click this button
that appears in the top right and choose
oPlayer Lite
* to launch it. In the SugarSync app, after downloading you'll be asked which player you want to use when you select the video you want to watch.
[NOTE: Make sure your videos have fully uploaded to the cloud before you try to play them on your iPad. In Dropbox, finished uploads show a green check mark.]
b. File Sharing via iTunes: Connect your device and launch iTunes. In the left pane, click on your iPad under Devices. In the main pane, choose Apps and scroll down to the File Sharing section. Click on the media player app on the left, and drag videos from your computer.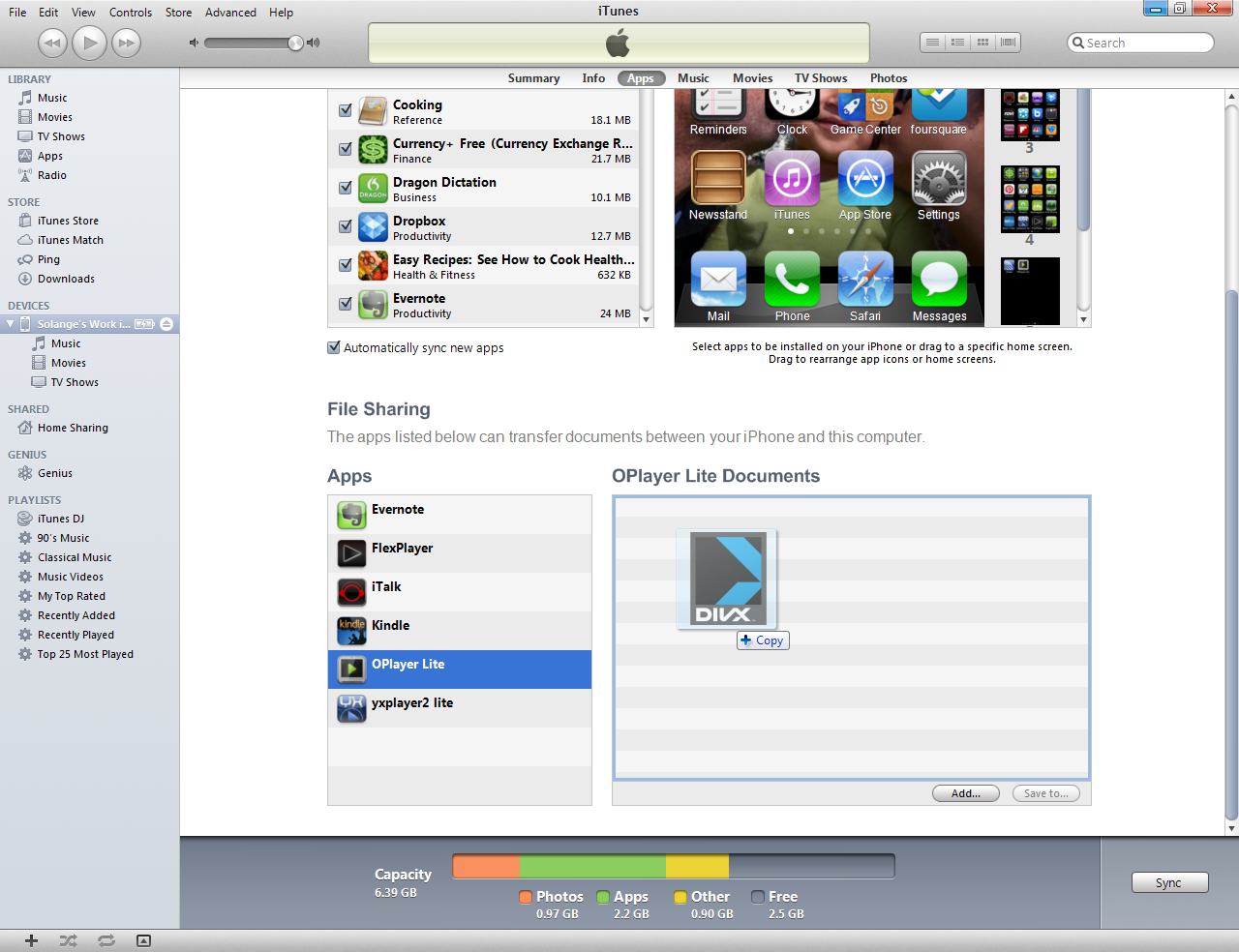 Once the videos are on your iPad, simply open
oPlayer Lite
*, choose
File,
then
My Documents
and choose the DivX movie you'd like to play.
3. Enjoy DivX movies on your iPad! While the solution we described works well, a DivX Certified tablet plays DivX videos natively – meaning it's easier, quicker and uses even less battery. We love the iPad, but we're just sayin'…

* Rovi Corporation and its subsidiaries do not develop or provide support for the third-party software tools and applications mentioned in this tutorial.